Ingredients: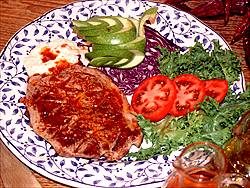 – 2 pork tenderloins.
– 2 tablespoons olive oil.
– Half a teaspoon of paprika.
– 1 clove of garlic.
– 1 pinch of black pepper.
– 1 small lemon.
– 200 ml cream.
– 1 tablespoon flour.
– 1 tablespoon of butter.
Preparation:
Cut the fillets in half (optional make a slit through), and spent over high heat in a skillet with a few drops of oil.
In a pot, we mash the garlic, pepper, paprika and water them with lemon juice and two tablespoons oil. Paint fillets with this sauce and remove from heat. In a small saucepan heat the butter add the tablespoon of flour, we pour the cream until slightly thickened. We put the fillets in a baking dish, partially covered with cream and finished preparing in the oven.