Ingredients:
–       Meat of spider crab Ramón Peña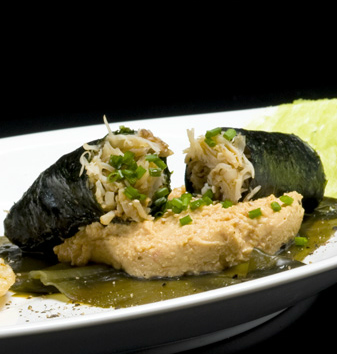 –       Seaweed nori
–       Small pasty mass
–       Courgette
–       Onion
–       Chives
–       Mayonnaise
–       Wasabi
–       Olive oil.
Preparation: Cut the nori seaweed  in rectangles, spread a little of wasabi, add the meat of spider crab and roll up.
Apart, we make a mixture of spider crab meat, a little mayonnaise and a dash of wasabi. We beat slightly (should be thick) and mold a base.
To accompany, sauté the onion in a pan with olive oil. Cut the zucchini into slices fry them slightly in the pan and fry the small pasty mass.
Set the sfuffed makis on the basis of the spider crab and we sprinkle with finely chopped chives. Accompanied by stuffed zucchini onion on the small pasty mass.